Increase daily weight gain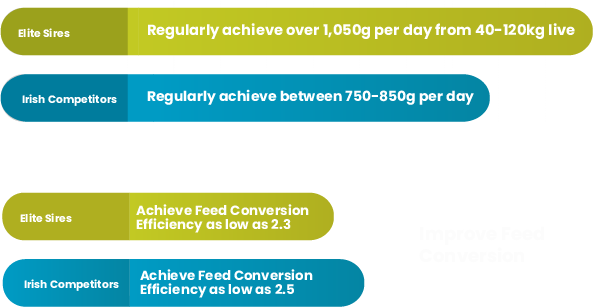 Pig producers in Ireland trust Elite Sires' DanBred swine genetics to deliver greater weight gains and increased piglet output in herds.
Our breeders have enjoyed ever-increasing profitability thanks to continually improving pig genetics for 30 years. Elite Sires is the island of Ireland's sole distributor for DanBred – world leaders in pig DNA. Our Danish swine genes ensure your pig breeding business performs to its absolute best at all times.
Why Choose Elite Sires
Increase weaning numbers
Optimise daily weight gain
Maximise feed conversion
[email protected]
Elite Sires' gilts are sourced directly from our Danish partners which select only genetically superior animals to produce the best results for your business.
Pig News
[email protected]
Elite Sires customers enjoy 'largest genetic gain ever realised' Elite Sires' customers are reaping the benefits of the "largest genetic gain ever realised" in slaughter pigs, says Managing Director Alan Shepherd. The Irish [...]
Are you ready to increase your pig production profits?
CONTACT US